It's no secret that I love a good conference. However, like many conference-goers, I've been to some shockers. Fortunately Social Media Marketing World wasn't one of them! Which is why I will be attending again in 2017.
It can be expensive to attend a conference – registration fees and, if it's not in your town, travel, accommodation and meals. And usually a sneaky mini (or not-so-mini) holiday at the same time. So you want to make sure you get value for money.
Why I'm going to Social Media Marketing World 2017

Highlights of Social Media Marketing World 2016 – look closely and you might see me! 
There are a heap of reasons why I'm going to Social Media Marketing World 2017.
In my opinion, it's the #1 conference for social media in the world. No other conference I have heard of gets the quality of speakers that are at SMMW.
The quality of the program – in 2016 I was blown away by how much I learnt. I wrote about my highlights from 2016 here.
The calibre of the speakers – the 2017 program has the who's who of social media. Confirmed speakers in 2017 include (You can get the whole list of confirmed speakers at the Social Media Marketing World 2017 website.):

Guy Kawasaki – Chief Evangelist of Canva and all round social media legend
Mari Smith – "The Queen of Facebook"
Jay Baer – renowned business strategist
Mark W. Schaefer –  a globally-recognized author, speaker, podcaster, and business consultant who writes one of the top five marketing blogs of the world
Darren Rowse – owner of two highly successful blogs, including ProBlogger (and he hosts an event of the same name) – and an Aussie
Pat Flynn – founder of the Smart Passive Income blog and podcast
Donna Moritz – another successful Aussie who blogs about visual imagery at Socially Sorted

There are a lot of sessions to choose from, but you don't miss the ones you can't attend as every attendee gets full access to the recordings of EVERY session and workshop. Yes, every keynote, all the panels and each great session will be at your fingertips to study after the conference.
Fantastic networking – in 2016 over 3,000 marketing, communication and social media professionals from around the world attended – I made some fabulous contacts and new friends from around the world, and have since caught up with many of them via social channels, Skype and face to face – because almost 50 of those were from Australia.
Great social events – the main social event is the opening-night Networking Party on the USS Midway aircraft carrier and there are many other scheduled and structured opportunities for networking
the pre-conference networking opportunities – I made some strong connections via the SMMW Facebook and LinkedIn groups, the Slack channel and of course over twitter in the months before I left home. This meant that I saw a lot of familiar faces when I arrived, which made it a lot easier to mingle
breakfast and lunch are included on the Thursday and Friday (if you have been to conferences in the US you will know this isn't usually the case!)
And of course, the location – I love the US and the conference is in sunny San Diego, in southern California, where the weather is always beautiful. And it's a great excuse to add on a short holiday 🙂
The important details about #SMMW17: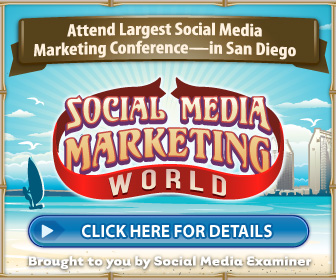 What:  Social Media Marketing World 2017
When:  Wednesday 22 to Friday 24 March 2017
Where:  San Diego Convention Centre, California, USA
How to book: Via this link.
Cost: A full price ticket is $US1,579 – HOWEVER the earlier you book the cheaper it is.
Bookings are now open – the earlier you book, the cheaper it is.
Also, if you don't want to go to San Diego, you can buy a virtual ticket – the price of these is also cheaper the further in advance you purchase.
Note: I'm an affiliate for this conference, which means if you book using the links above, I get a few $. This doesn't affect the amount you pay.